What's in a name? More on Ingredients: Nicotine, PG and VG
What's in a name? More on Ingredients: Nicotine, PG and VG
[©2014 ECBlend Flavors]
E-Cigarette or Personal Vaporizer?
 One of the hardest challenges we face in this new and emerging industry is the name we have been 'stuck' with: 
E-Cigarette. It is a misnomer and unfortunately, there is a great deal of misinformation disseminated by the media, politicians, and even tobacco companies in the early years.  It's ... aka name is a Personal Vaporizor (which is not a cigarette),  It is not a cigarette, contains no tobacco, and emits vapor only.  

 

Our products contain 4 standard ingredients, not 4000 toxic burning chemicals as cigarettes (or up to 8,000 in some brands).  
Our standard ingredients are 

flavoring (artificial and/or natural flavoring)
propylene glycol

[source: wikipedia.com] Propylene glycol is considered 

generally recognized as safe

 (GRAS) by the 

U.S. Food and Drug Administration

, and it is used as an 

humectant

(E1520), solvent, and preservative in food and for tobacco products, as well as being one of the major ingredients of the "e-liquid" used in 

electronic cigarettes

 along with 

vegetable glycerin

. 

Vaporizers

 used for delivery of pharmaceuticals or personal care products often include propylene glycol among the ingredients they are filled with.

vegetable glycerine, 99.7% pure.  Our testing lab tests our VG at 99.9% pure

Refined USP grade glycerin is used in many personal care, excipient, food, home care and industrial applications. In E-Liquids USP Glycerin offers sweetening and vapor functionalities. The more VG content in a blend, the more vapor is produced. Glycerin in E-Liquids is used to increase density, viscosity, thicken and sweeten formulations.  (No one likes a runny vape!)

and, if ordered, nicotine.  

Nicotine -- produces the good feelings that keep users coming back for more.  NIcotine has a 'bad side'..it is highly addictive!

It is found in several species of plants, including tobacco and, perhaps surprisingly, in tomatoes, potatoes, and eggplant (though in extremely low quantities that are pharmacologically insignificant for humans). [Source: PBS]

About 5 percent (by weight) of the tobacco plant is nicotine (C10H14N2), a naturally occurring liquid alkaloid. An alkaloid is a compound made out of carbon, hydrogen, nitrogen and sometimes oxygen, and it can have potent effects on the human body. The morning cup of coffee you enjoy, for instance, contains another type of alkaloid: caffeine. Cigarettes typically contain about 10 milligrams of nicotine (sometimes up to 20 milligrams, depending on the brand); when you smoke a cigarette, about 1 to 2 milligrams get absorbed by your body [source: PBS More information on Nicotine: The Dope on Nicotine] 
While the science and testing continue, ECBlend is on the forefront of legislation and product safety.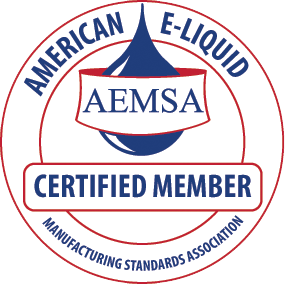 ECBlend - Certification, FDA cGMP, OSHA, Environment
http://www.ecblendflavorshop.com/helpdesk/knowledgebase.php?article=63
General knowledge articles >  http://www.ecblendflavorshop.com/helpdesk/
ABC's NewsChannel12  Christie Lewis and ECBlend customer talk about quitting cigarettes:
http://www.kdrv.com/smokers-use-e-cigarettes-to-quit/
And Dr. Siegel, a prominent health professor:
Dr. Michael Siegel is a tobacco researcher and a public health professor at Boston University  "The first step is to get these people off tobacco, to get them off cigarettes because that's what's going to kill them. Electronic cigarettes are not going to kill them, but the tobacco ones might," Siegel says.